The Certified Public Speaker designation program is a self-paced training and certification program on public speaking fundamentals, industry terms, and best practices. The Certified Public Speaker program is self-study and 100% online. That means you get to set your own pace and take as long as you need.  This program develops the skills necessary to be a great public speaker.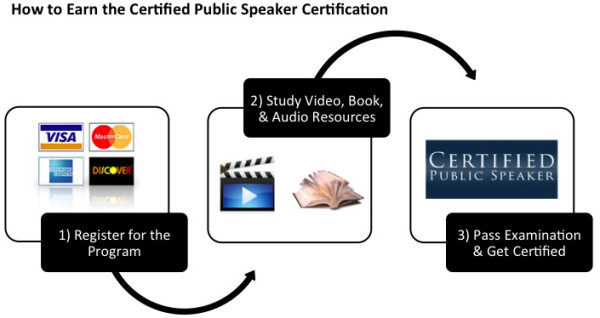 To earn the Certified Public Speaker designation:
Register for the Certified Public Speaker program.
Purchase the required books shared in the study guide and syllabus (below), and on the required reading page.
Go through the materials in the books, videos, and audio resources. With the study guide and mock exam, study for the examination.
Complete the project, as laid out in the study guide and on the strategic project overview page.
Schedule an examination by sending in your completed project.
Score an 80% or higher grade on the examination and project, and earn the Certified Public Speaker designation and certification.
To learn more about the Certified Public Speaker program, here are some helpful downloads:
– Syllabus: Certified Public Speaker Syllabus (PDF)
– Study Guide: Certified Public Speaker Study Guide (PDF)
Most people can complete the program in 3-6 months, but there is no deadline or expiration to your registration. Once you register, you have lifetime access to the online materials and can complete the course at your own speed. With an exam held every month, the Certified Public Speaker program can be completed as quickly as you'd like.
Once you enroll, use our audio and video study materials, complete the project laid out in the study guide, and pass our timed online examination, you will earn the Certified Public Speaker certificate. Please find an example of the certificate you will receive upon completion to the right: 
Sample Audio Interview: 
Nick Morgan: One of the most valuable interviews we completed for experienced speakers in this program was with Dr. Nick Morgan, CEO of Public Words.  Nick is the author of 3 books on public speaking including Power Cues, Trust Me, and Give Your Speech Change the World.  This interview covered a different perspective on public speaking, and even those who have given over 100 or 200 speeches will get great value from Nick's insights on identifying your niche, doing the opposite of everyone else, using body language properly, and being a doctor of your space rather than a blind prescriptionist.  (Download this MP3 Audio Recording)

Sample Video Module: 
Strategies for Moving up the Speaker Ladder: Within this video recorded in Madrid, Spain Richard Wilson provides advice on how you can move up the speaking career ladder step-by-step very rapidly over just 1-2 years.  By following this process you will never get too nervous or intimidated to accept a speaking opportunity and you will know which types of opportunities are worth your time to complete.  (Download this Video in Mp4 Format)
If you have questions about the program please call our team at (305) 503-9050 or see our list of common questions.  If you are ready to get started please complete the registration form.