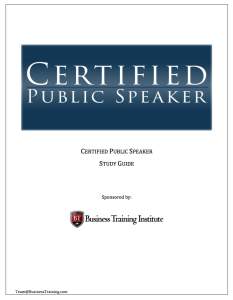 Please download the Certified Public Speaker study guide and syllabus below:
The Certified Public Speaker program can be completed with just 50-75 hours of study and preparation for those with public speaking experience or previous training or instruction, and up to 100-150 hours for those relatively new to public speaking.
If you have questions about the program please view our Frequently Asked Questions (FAQ) page, or call our friendly U.S. based team at 305-503-9050.  If you are ready to get started, you can complete the Certified Public Speaker registration form.